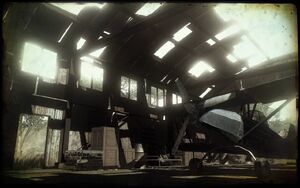 At the beginning of the game the player can choose one from nine male avatars to be his representation in the game. Interestingly other than hands, arms and legs the avatar will not be visible in this first person shooter, since there are no working mirrors in game.
Except for the chosen avatar all the other eight male characters can actually become your so-called Buddies in the game. So in a second run, provided you choose another avatar, you will be able to meet your previous self as buddy.
Alas three buddies from the total of 12 can not be played — the three female characters Flora Guillen, Michele Dachss and Nasreen Davar.
Choosing a different avatar at the beginning of the game does not change that much in the game, other than:
Your arms, hands, legs, and clothing will look different, obviously.
The tutorial plays out slightly differently. You start off from the Slaughter House, Fresh Fish, Cock-Fights or Lumber. The faction 'underling' you encounter and the first buddy you rescue will also be different.
From what faction (APR or UFLL) you get your first main mission will also change. But this is simply a change in mission order, since you will always play the same main missions, all of them.
This also influences what 'underling' you encounter in the desert at the end of Act 1.
There are more such slight differences, e.g. you may encounter minor changes in dialogue, but they all end up being irrelevant to the main story.
Note: The buddies' personal missions are always the same. And the buddy additional missions to main missions, proposed by your best buddy, are the same no matter what buddy is your best buddy.
Andre Hyppolite
Frank Bilders
Hakim Echebbi
Josip Idromeno
Marty Alencar
Paul Ferenc
Quarbani Singh
Warren Clyde
Xianyong Bai
See also
Ad blocker interference detected!
Wikia is a free-to-use site that makes money from advertising. We have a modified experience for viewers using ad blockers

Wikia is not accessible if you've made further modifications. Remove the custom ad blocker rule(s) and the page will load as expected.